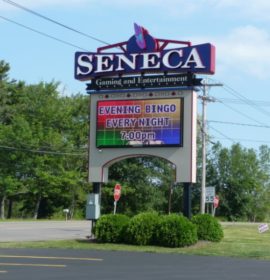 11099 Erie Street Irving, New York 14081 - 956

(716) 549 - 4389

No specify serve day
CONTACT OWNER
Seneca Gaming & Entertainment - Irving

Their main website: http://www.senecagames.com
The casinos in Irving and Salamanca are Class II gambling establishments, limited to slot-type electronic gambling machines and Bingo. While their website also shows a poker page replete with a photo of poker pro Mike Matuso visiting a Seneca property, this is referring to the Class III casino in Niagara Falls.
The Irving casino is just off the shore of Lake Erie, on Erie Road (which is Route 5). They feature big promotions for their Bingo games, with jackpots of $3,000 up to $15,000 frequently. Regular bingo games can win around $500 and over. There are special prizes too — cars, and bonanza prizes of tens of thousands of dollars. There are regularly 3 bingo sessions every day.
Seneca Irving has over 650 video slots. The video gaming machines accept cash and pay out with a card you take to a cashier, or use in another video slot machine.
Food is served daily — morning, noon and night. Specials of homestyle cooked meals, mostly.
Open 7 days a week, and hours are Sunday-Thursday from 9:30 am to 2 am, and Friday-Saturday from 9:30 am to 4:30 am.