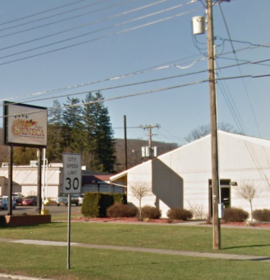 768 Broad Street Salamanca, New York 14779 - 1331

(716) 945 - 4080

No specify serve day
CONTACT OWNER
Seneca Gaming & Casino - Salamanca
This is farther south of the rest of Seneca land, closer to the southern NY border. A more modest gaming site, Seneca Casino Salamanca is in a location where there are no other casinos. It provides entertainment for local New Yorkers or Pennsylvanians, who have fewer casinos in their state. Like its sister property, it offers bingo and electronic gaming in the form of slot machines.
It is open from 9:30 am to 1 am Sunday thru Thursday, and until 2 am Saturday and Sunday. The Bingo Hall is likewise open every day of the week, and runs double sessions, matinee and evening, 5 days per week; Monday and Tuesdays have just one gaming session starting at 7pm.
Bingo Hall Calendar: http://www.senecagames.com/salamanca-bingo-hall-events.html
Salamanca sells food at its concession grill, all takeout items like wings and sandwiches but also fried shrimp dinners and desserts. The gift shop carries bingo gear, men's and women's sportswear, and Native brand cigarettes at a discount.
The Seneca Gaming Corporation runs the Seneca Niagara Casino & Hotel, Seneca Allegany Casino & Hotel, and Seneca Buffalo Creek Casino.
Main website: http://www.senecagamingcorporation.com
This property is a Class III gaming operation — which is permitted to offer traditional, casino-style table games such as Blackjack, Craps, and Roulette — in addition to electronic reel and video slots. Seneca Gaming Corporation is owned by the Seneca Nation of Indians, and it operates all the Nation's Class III gaming in western New York.